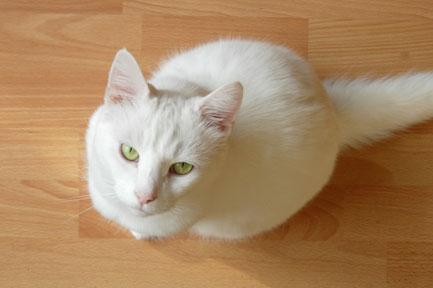 Nero
I have used Jacqui to look after my cat Nero whilst I was away in Australia for two months last year along with a few shorter trips this year. This I feel is a much better than a cattery, since he is in familiar surroundings. Additionally, when popping around to feed him, Jacqui also offers the benefits of keeping an eye on the house and emptying the letter box. Highly recommended!
— Jon (Lichfield)
Hugo
Jacqui has been walking Hugo since 2013. Hugo looks forward to his walks. Jacqui is very reliable and flexible and she takes the worry away of leaving Hugo home all day.
— Helen
Jacqui is friendly, reliable, trustworthy and my dog loves her! Definitely recommended!
— Rachel, owner of Fred
Jack and Phoebe
When I picked Jacqui's business card up off my door mat and read the content, my first thoughts were what an excellent idea!
Not long after this I contacted Jacqui to see how she would feel about looking after my two much cherished elderly cats for a week while I went away on holiday. We arranged for Jacqui to come and see us and meet Jack and Phoebe.
Very soon we had discussed what we needed and agreed a plan. Not only did Jacqui visit twice per day to wake them up in the morning and put them outside in their garden run and bring them in again in the evening, but feed, water and litter tray cleaning was also required.
My other request to Jacqui was would she be able to give them both a tablet each day, as they both suffer from kidney problems. This is a big ask with cats especially even more when they don't belong to you!
Jacqui managed everything we asked of her, we had regular text messages reassuring us that all was well, even getting the hang of tablet giving...
On returning home, I was welcomed by two very contented happy cats that had been able to stay at home in their own environment and routine while we had been away and not be stressed by having to go away to a strange environment feeling like we had abandoned them.
I would highly recommend this service that Jacqui provides to anyone who cares about leaving their precious pets. It's great and I certainly felt a lot happier leaving them this time around. Well done and I will certainly be calling on you again.
— Nikki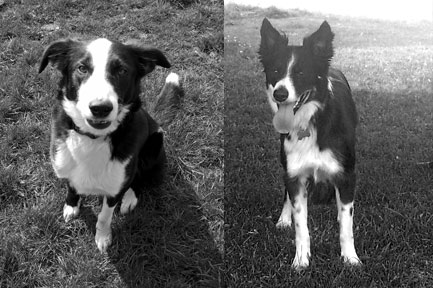 Dexter and Comet
When we moved here two years ago we were worried about finding someone who would pop in to see our boys and give them some play time while we were out at work. Someone recommended Jacqui and we're really pleased they did, from the first contact Jacqui has been great. She came out to our house to meet us and the dogs and we were very happy when, even after meeting our boisterous collies, she agreed to take them out.
She has been flexible from the beginning which is great considering we live out of town and it isn't particularly easy to get to our house. If we need to change our requirements she has always been able to accommodate us and provide what we require.
We are always impressed that Jacqui never has any problems getting Dexter back into the house. He can be a pain and refuse to come in if he wants to stay out and play. During the hot days last summer Jacqui expressed concern about playing out with the boys as it was so hot, this was very reassuring and nice to see her caring so much for the dogs. She agreed to water play with the hose pipe as we told her the boys loved it so much, we enjoyed watching the videos of our mad dogs on the Facebook page.
We wouldn't hesitate in recommending Jacqui to anyone in need of pet sitting.
— Lou and Gareth
Rosie
I have used Jacqui's service on two occasions and felt very reassured my two rabbits were in good hands. I was particularly impressed that Jacqui went the extra mile when caring for my rabbits over the Christmas period when snow and ice made things more challenging. Jacqui made extra visits to defrost bottles etc. Also I feel able to rely on her if I was delayed at short notice.
Overall I have had a very positive experience and will definitely use the service again.
— Sarah
Zuma
I get Jacqui in to walk Zuma once a week, mainly just to socialise him, as she walks him with her own little westie and meets many other dogs on her way. Unfortunately I am troubled with a bad back and am often unable to walk Zuma. When these episodes occur, Jacqui has never not been able to fit a walk in to her schedule for Zuma. I have found her to be highly flexible, even at short notice. I cannot fault her service.
— Eileen